Family Owned Business

Verteran Owned Business

Realtor Recommened

Execellence Since 1994

Licensed, Insured, & Certified

Local Moving & Storage

Nationwide Moving & Storage

Free Estimates

Competitive Prices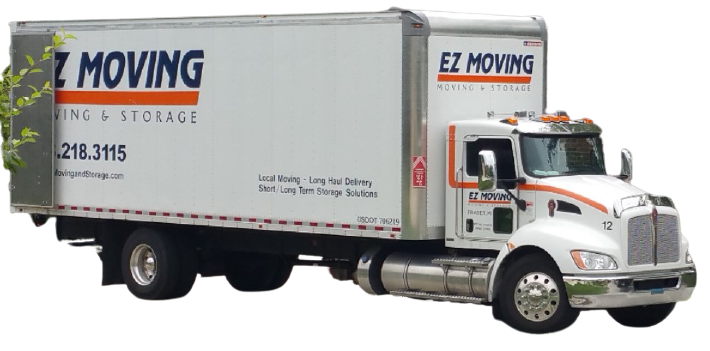 About EZ Moving & Storage
Established in 1994, EZ Moving & Storage is Michigan's number one moving and storage company servicing throughout the state of Michigan and out of state East of the Mississippi, from Maine to Florida. We have over 27 years of experience as a top-rated moving and storage company, ensuring the security and safety of all of your belongings through affordable, high-quality, efficient, and reliable moving and storage services. Licensed, insured, and certified, we provide local and out-of-state moving services for individual clients, families, and commercial clients and corporations. EZ Moving & Storage also offers storage services for hauls both large and small. We are a Veteran-owned and family-owned business licensed in the state of Michigan (MPSC27002) and the Interstate Authority (USDOT706219), (ICC415239), and we are certified through the BBB, AMSA, and MMA.
Family Owned Business

Verteran Owned Business

Realtor Recommened

Execellence Since 1994

Licensed, Insured, & Certified

Local Moving & Storage

Nationwide Moving & Storage

Free Estimates

Competitive Prices

Licensed, Insured, & Certified

Veteran-Owned & Family-Owned

Since 1994 -
30 years of experience

BBB, AMSA, and MMA Accredited

Michigan Licensed (MPSC27002)

Interstate Authority & USDOT Licensed
Interstate Authority (USDOT706219) & (ICC415239)
USDOT #706219

Local Michigan & Out-of-State Services

Licensed Nationwide
Every aspect of a short notice Xmas Eve move with budgetary limitations - from initial contact with the office manager, Autumn, through the touch of a hands-on owner, Greg, and three movers operating like controlled wildfire – was professional, efficient, accommodating and exceptionally helpful. It was like having a championship caliber team operating solely for us. All stages of the move were fully explained; indeed, ongoing updates as to timing and space were constant. (It was a last-minute move to a storage facility, with packing ongoing and decisions as to leave/go on one trip as well as fit into a limited, finite space.) Additionally, there were dozens of pleasant surprises; one example is the way the men simply fixed a wobbly, fragile and sentimental jewelry chest. Another was one of the movers (they were Dre, Z and Jamale) offering his tool kit as one of our few unpacked tools broke while removing a flat screen TV from the wall. EZ also helped and accommodated us in two other critical ways. I am deliberately not naming them because of the unique circumstances; plus, they could not possibly do the same for everyone and remain profitable. Nonetheless, the EZ mindset in this regard epitomized the best of the Christmas spirit. The entire EZ Moving and Storage experience rates an A+++.
Ray and Jack were great. Quick, friendly, and really cared for my stuff. Got everything loaded and unloaded without any damage to any of my furniture. Awesome job guys. Keep it up.
OUTSTANDING. POLITE EFFICIENT handled my baby grand piano with care. The three gentlemen could not have been nicer or done a better job. I have already given the name of your company to others. Your office staff was also very polite and efficient. I appreciate your fine service. Thank you